Humpback Whales in Samana Bay Dominican Republic.
The entire Samana peninsula is incredibly gorgeous - definitely in the typical "Caribbean" sense - with thick palm forests, kilometers of unspoiled white sand beaches, and clear turquoise waters.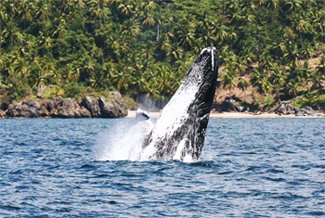 Puerto La Palma is located in the heart of the Samana peninsula nearby the Town of Samana and the fishing village of Las Galeras. Countless natural attractions nearby include's : Cayo Levantado island, Playa Rincon, Waterfall Salto El Limon and Los Haitises National Park.
The middle of the peninsula is made up of high mountain passes that host magnificent views, lush tropical forests, and a number of waterfalls.
Humpback whales can be seen in the Samana Bay from January to March
every single year.
Samana Dominican Republic Things to See : Humpback Whales in Samana Bay.
FOR MORE INFORMATION ABOUT SAMANA :